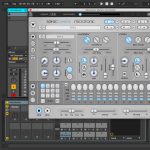 Back in 2011 I've made Ableton Live Drum Rack for awesome Microtonic Vst plug-in by Sonic Charge (soniccharge.com).
It enables you to add separate audio and MIDI effects to each Microtonic instrument output in Ableton.
I decided to update it a little into 2019 version and to be compatible with Live 10.0.5 and Microtonic 3.2.
As the hosting cost me some real money I decided to sell it for just 1 EUR.
Here is a  link to the shop:
http://sequentek.net/shop
Enjoy!